Welcome!
Thanks for joining me here. I am excited to get started on this chapter and share some things that I have learned along the way. I want to take this first post to talk a just little about me and how I got to where I am now and where I hope to go with this blog.
I have not always been interested in art. Although my grandmother was an amazing oil painter, and I like to think I inherited a bit of her artistic skills. I often wish I could have learned more from her. She did help me paint my first painting when I was 8 years old.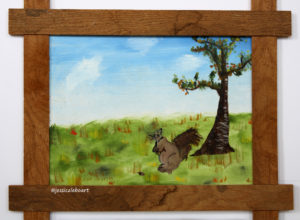 Yep, that's a squirrel! Other than this painting I didn't do anything outside of regular art classes in school. Looking back I wish I had fallen in love with art then, but I had other hobbies. I have always enjoyed creative activities though. I love to quilt and sew, and even owned a cookie and cake decorating business once. My husband's job requires us to move a lot and I needed a hobby that could travel with me. So in 2010, I bought my first sketchbook. Here is my very first pencil drawing: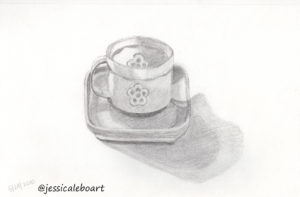 A toy cup and saucer. It's not a terrible first attempt. We all have to start somewhere and everyone has a first drawing but I wanted it to be better. So I bought a couple of drawing books by Lee Hammond and started practicing. I've come a long way. I still have goals of improving but one of the most exciting things is to look back at my previous art and see how much I have improved.
This blog will initially be about how I started making prints. The good, bad, and lots of ugly. I struggled at the beginning a lot, and I'd love to save some people the troubles I went through. Eventually I may turn to more of the drawing side of things, but to start it will just be about getting pictures, editing, and print making. I'm still learning every day and I'm excited to share what I've learned.
As this is my very first blog post, I know there is a lot to learn about the world of blogging. Hopefully I catch on quickly, but please be patient! For now my goal is to try once a week-ish posting. I don't want to overburden myself at the start, but also want to make sure I'm not taking forever to get the information out to you.
Thanks for joining me and please feel free to ask questions and give your opinions! If there is a topic you would like me to cover let me know.
Please take a moment to subscribe to both my email list and my postcard mailing list. Not all support as an artist comes from buying work, sometimes it comes as likes, follows, shares, comments and subscribes and I genuinely appreciate each one. I will be sending out postcards every now and then as a way to say "Thank you!" for your support. I hate spam as much as you do, and your information will never ever be shared with anyone.
SUBSCRIBE